Biography
FEBRUARY 3, 1959: "Clear Lake, Iowa (UPI) - Following an appearance before 1000 fans at Clear Lake last night, they chartered a plane at the Mason City Airport...and took off at 1:50 AM for Fargo, North Dakota. Their four-seat single engine plane crashed minutes later..."


SEPTEMBER 7, 1936: Lubbock, Texas - Mr. and Mrs. Lawrence Holley announce the birth of their fourth child, Charles Hardin. They nickname him Buddy. Buddy Holley. Buddy Holly.
For 30 months of your life, you knew him: between 1957 and 1959, static-y portables jived with his unique vocal style. You sauntered down the street trying to imitate that now legendary hiccup, wordless singing, and painless stretching of one syllable over several notes.
For 30 months of your life, you waited to view one of his famous (to some, infamous) gyrating live sessions. Buddy Holly got it on. Without powerful Dylanesque lyrics, without bizarre electronic devices, Buddy Holly touched his fans - often with a gentle, melodic hand - sometimes with a scorchingly vital guitar flash.
All that ended in a tragedy which has been eulogized by musicians from Don McLean to the deeply entrenched Everly Brothers. All that started 22 years before in Texas.
Buddy's early years are of interest - not so much for what they reveal about him but for what they reveal about the taproots of American Rock. These early years are characterized by Buddy's seemingly innate interest in and talent for music.
His parents moved to Lubbock, Texas in the early 20's. They raised their three older children, Lawrence, Travis and Patricia, during the worst years of the depression. Mr. Holley found work as both a carpenter and a tailor in this Texas panhandle town of 70,000 where cotton storage sheds are still the only buildings visible above the dusty, flat countryside. The Holley home was a supportive one, where honesty and hard work were valued. This was areligious Baptist family who attened church regularly. Early exposure toreligious music undoubtedly influenced young Buddy. And his household was a musical one.
Although far from wealthy, the Holleys made sure there was money enough for a fiddle, guitar or accordion for their children. Family singing was frequent, with Mrs. Ella Holley playing piano accompaniment.
Larry, Buddy's older brother, remembers when the three brothers entered alocal music contest. Larry (fiddle) and Travis (accordion) had some skill...but five-year old Buddy was just learning to play his own small violin. Still, they let Buddy "play" along - after carefully greasing hisbow to prevent the screeching that might ruin their chances of winning.
What the future would offer Buddy Holley could have been predicted that day. He walked away with the five-dollar prize.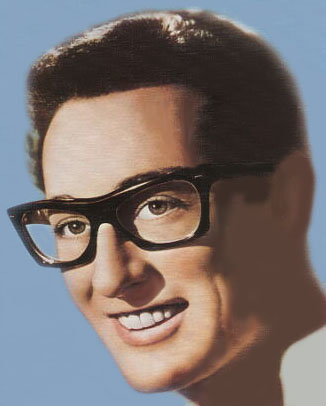 By the time he was eight, Buddy was studying piano and violin. He played piano for about nine months, then switched to steel guitar. But his heart was really captured by the acoustic guitar. After twenty steel guitarlessons, Buddy changed to the acoustic...at last he came to his instrument. Larry says the acoustic guitar was a "natural" for Buddy. He played it by ear, often memorizing a difficult song after only hearing it once. Although his formal music education was short, Buddy was familiar with many kinds of music. He was thoroughly imbued with the blues and country sounds he heard on the radio.
Early morning school bus rides would find Buddy singing "Lovesick Blues"in the Hank Williams style, Mrs. Holley recalls. Years later, Buddy said, "In the old days, I remember hearing records of Hank Williams and Jimmie Rodgers. Those fellows were a great inspiration for the whole country field." Bob Willis and Hank Thompson were also favorites.
In the fall of 1949 Buddy met Bob Montgomery, a fellow seventh-grader at Hutchison Jr. High, who also played guitar and sang country songs. They began playing together, patterning themselves after other country harmonygroups like Johnny and Jack, the Louvin Brothers and Jim and Jesse. Billing themselves as "Buddy and Bob," they played junior high assemblies and local radio shows. Their sets were basically country, beefed up by harmonies and their own guitar accompaniment.
Their classmates (including Jerry Allison, who later became one of the original Crickets) remember with childish glee one particular assembly. With Buddy on mandolin and Bob on guitar, they sang "Too Old to Cut the Mustard," - which they dedicated to an elderly spinster teacher at their school.
As they grew up so did their music. Bob's interest in bluegrass made Flattand Scruggs important to their development. And their radio was a window to the music outside Texas. The boys often listened to rhythm and bluesshows such as those of Sam Lewis from Louisiana and Gabe Mouth Page from Arkansas. They seldom missed their country favorites on "WSM's Grand Ole Opry" or "The Louisiana Hayride."
Buddy and Bob became Lubbock's leading performers. Between 1950 and 1952, they performed at local clubs and high school talent shows, sometimes adding a bass and, less frequently, drums. Harmony duets still predominated their style, with Bob usually singing lead. When Buddy occasionally would singlead, you'd hear a more upbeat tempo, a less country sound...and another forecast of things to come.
By the time Buddy and Bob entered high school, they were widening their audience by appearing at youth clubs and centers as far away as Carlsbad, New Mexico and Amarillo, Texas. Lubbock's "Cotton Club" and "Bambaloo Club," the Union Hall in Carlsbad and Amarillo's "Clover Club" all featured "Buddy and Bob" performing music they now dubbed as "Western and Bop."
Local radio stations also gave impetus to Buddy and Bob's career. KDAV, the nation's first all-country radio station, held a weekly "Sunday Party," patterned after the highly successful "National Dance Barn" show on Chicago's WLS. Buddy and Bob were frequent guests. In fact, their popularity grew so much they were given their own half-hour program each Sunday.
Their repertoire remained basically country with Bob Montgomery still singing lead. But as 1954 progressed, Buddy began to sing more blues and "bop" numbers on the show. Although Montgomery was the principal composer during their partnership, Buddy also began to write.
Two of these three songs were "Heartbeat" and "Love's Made a Fool of You," both recorded several years later.
At every opportunity, meaning whenever they had saved up enough money, the boys would cut demonstration records. They used Nessman Studios in Wichita Falls, Texas, Jim Beck's Studios in Dallas, and later Nor Va Jak Studios in Clovis , New Mexico. Generally, they invited local musicians, including Larry Welborn (bass) and Sonny Curtis (guitar), to join them during the sesessions.
They sent their "demos" to record companies, hoping they'd be offered a recording contract. "We thought if you got a record contract," Montgomery remembers, "you were automatically rich. We had seen the country artists come through here in their Cadillacs with Tennessee license plates and wethought all you had to do was get on a record and you had it made."
But it wasn't a keen-earned record company that brought Buddy his first realbreak. It was that good old local radio station, KDAV. In addition to airing the "Sunday Party," KDAV also sponsored live country and early rock 'n' roll concerts in Lubbock. The station often chose the "western and bop" duo to open the shows, which headlined stars like Ferlin Husky, Marty Robbins, Porter Wagoner...even Elvis. And Buddy met them all. One of these performances played a crucial role in the advancement of Buddy's career.
On October 14, 1955, Bill Haley and the Comets starred in a show at the Fair Park Auditorium with Jimmie Rodgers, Hank Snow and "Lubbock's own Buddy, Bob, and Larry." Eddie Crandall, Marty Robbins' manager, booked the show.
Crandall was impressed by Buddy's performance. He spoke to Pappy Dave Stone, the owner of KDAV, and asked for some of Holley's demos. The recordsended up in the hands of Paul Cohen, head of Decca Records' Specialty Division. And from those hands came the contract offer. In January of 1956, Buddy recieved it...made out to BUDDY HOLLY. Bob Montgomery was not included; Buddy didn't want to sign. Montgomery himself talked Buddy into taking advantage of his opportunity. He even traveled to Buddy's first Nashville session...but he never played or sang.
Holly did three sessions in Nashville during 1956 (January, July and November). Buddy's backup men varied during these sessions. Larry Welborn no longer played with Buddy so Don Guess, another Lubbock boy, played bass. Drummer Allison, still in high school, sat in for only one session. The first two sessions had Sonny Curtis playing lead guitar and Grady Martin on rhythm. Martin and Boots Randolph, who also played on some tracks, were two of Nashville's most respected session men. But they were not Holly's own backup group.
At just about that time, RCA Victor Records bought Elvis Presley's contract from Sun, his original label. Decca, looking for their own Elvis, thought it best for Holly to begin recording with professional session men - not his own group. Infact, not even Holly was to play. Buddy was to cut only vocals.
From the first two sessions, Decca released only one single - "Blue Days Black Nights"/"Love Me." Reviewed favorably in the trade press, the record did not do well in the marketplace. The disc did not succeed partially because Holly and the Decca-selected backup group could not create the tightness inherent in the union of Holly's voice, his guitar and his own group of musicians.
On the last Nashville session, Holly's own group, The Three Tunes, did play but they were "green," according to Curtis. "We didn't understand a thing about recording." The seventeen and eighteen-year-old kids did upset Cohen on more than one occasion. None too happy with the group, the boys recall, "Decca would turn on the knob and let us have a couple of trys at it."
After the last Nashville session, Decca released "Modern Don Juan"/"You Are My One Desire." The trades loved this one too but again the public wasn't buying. By then, Buddy's relationship with Paul Cohen was less than amicable. He knew Decca would not renew his contract. As Jerry Allison puts it, "I think everybody just dropped it. It was the 'I won't call if you won't call me approach.'"
Buddy went home with no recording contract, but leaving a large number of unreleased cuts including "Rock Around with Ollie Vee," "Ting-A-Ling," "Baby, Won't You Come Out Tonight," and "That'll Be The Day." Discouraged, but dedicated, he continued to record with amateur equipment in his garage.
He continued to cut demos, this time in Clovis, New Mexico at Nor Va Jak Studios, owned and operated by Norman Petty. An independent producer and artist in his own right, Petty already had several pop hits to his credit, including "Lisbon Antiqua" and "Almost Paradise." Although Petty's musical orientation was toward pop, he made studios available to rock 'n' roll artists. Buddy Knox recorded the well known "Party Doll" in those studios.
Buddy Holly re-recorded the classic "That'll Be The Day" in those studios, too. The demo emerged from a complicated, somewhat haphazard meeting of several performers gathered at Petty's studio to cut demos with Gary Tollet, a young, unknown artist.
Tollet happened, incidentally, to have pretty solid connections at Roulette Records. Promises in the wind? Jerry Allison wasn't sure, but when he was offered the session's drum spot, he made sure Buddy Holly was on guitar. After Tollet's session, "That'll Be The Day" and "Lookin' for Someone to Love" were waxed with Holly on guitar, Don Guess on bass and Allison on drums. Tollet even sang background vocals for Holly. Promises in the wind? Not this time.
These tapes were sent to Roulette. The company liked Holly's songs but not his group. They felt they didn't need another artist like their current rock 'n' roll stars, Buddy Knox and Jimmy Bowen. They were interested in Knox recording "That'll Be The Day," and Bowen cutting "Lookin' for Someone to Love."
But Buddy Holly wanted to record his own songs with his own group, now called the Crickets.
Petty suggested sending the demos to Peer-Southern, a New York publishing house where he'd placed some of his own compositions. This time, the wind was heavy with promises.
Peer-Southern gave the demo to Bob Thiele at Brunswick Records, a subsidiary of Decca. Thiele liked what he heard - so much that Brunswick decided to use it as a master. "That'll Be The Day," recorded by The Crickets, was released in June, 1957. By September, rock 'n' roll addicts from America to Britain knew all the words.
Hit singles always need a little help from their friends. Petty and the promotional staffs at Peer-Southern and Brunswick helped. But all the helpin the world doesn't make it a hit. Buddy Holly and the Crickets made that record.
This unique sound was created by the simplest of recording techniques, doubletracking. Double tracking uses two tape recorders. The basic cut is laid onone tape. That tape is then played back while a second recorder picks up the first tape plus any studio additions. Double tracking allowed Holly to sing harmony to his own lead vocals and also play both lead and rhythm guitar. The current reign of the 16-, even 32-track tape, renders the layered Holly sound particularly remarkable.
"Words of Love," by Buddy Holly, was released as a single on Coral Records, another subsidiary of Decca, at about the same time. The decision to release Holly as a solo artist was Petty's. He saw in Holly a potential for superstardom. The strategic attempt at double exposure paid off later, although Buddy's first solo effort failed. The song was quite successfully covered by The Diamonds, fresh from slot one with "Little Darlin'." It was later recorded again by a little-known British group...The Beatles.
Meanwhile, "That'll Be The Day" was making history. Audiences begged for afirst-eye look at the group that made it. During the fall of 1957, The Crickets were part of an 80-day tour that included Fats Domino and the Everly Brothers. Jerry Allison explains, "We weren't interested in money or percentages at thetime. We wanted to go on the road and pick."
The previous spring and summer found Holly and The Crickets, now Jerry Allison(drums), Joe B. Mauldin (bass), who replaced Don Guess soon after the second waxing of "That'll Be The Day," and Niki Sullivan (rhythm guitar), back in Petty's studios. While on tour they also recorded with Petty (now their personal manager) at Tanner Air Force Base in Oklahoma City. These sessions,recorded for their first album, "The Chirping Crickets," produced innumerablenow-classic cuts.
Their songs were often modified during session - improvisation was a key to theHolly sound. "Oh Boy!," Holly's second hit with The Crickets, was originally titled "All My Love." At the session, it became "Oh Boy!." The lyrics were also changed, considerably altering the meaning of the song. "Peggy Sue,"Holly's first solo success released on Coral, was cut at the same sessions. Originally titled "Cindy Lou," it became "Peggy Sue" because Peggy Sue was Allison's girl.
By December, 1957, both "Oh Boy!" and "Peggy Sue" ruled the charts. Two guest appearences on the Ed Sullivan Show followed. Allison remembers best a phase of the Crickets' career that came between these two shows. "The most exciting time for me was the New York Paramount Show. The Everly Brothers took us out to get outfitted in fancy clothes. They said, 'Hey now you've got to quitwearing those funny clothes....So we shucked our t-shirts and moccasins."
With millions of records selling overseas, large audiences awaited Buddy Holly and The Crickets. In early February they joined Paul Anka and Jerry Lee Lewis for a short Australian tour. The show was a smash. In March Buddy Holly and The Crickets hit England for a 25-day tour, booked as part of a variety show. Again, the tour was a tremendous success. Melody Maker, England's well known music publication, praised The Crickets delivery: "Country and Western fans need look no further than the best selling "Peggy Sue" - and Buddy Holly isevery bit as good on the disc. And for the rock 'n' rollers "That'll Be TheDay," "Oh Boy," "Rip It Up" and so on are given plenty of punch.
During their English tour, Brunswick released "Maybe Baby." "Oh Boy," "MaybeBaby," and "Think It Over" were all chart-makers for The Crickets while "RaveOn," by Holly, was his second hit of four releases as a solo artist for Coral.
After the English trip, The Crickets continued to tour the U.S., leaving a string of hits in their wake. "Early in the Morning" (Bobby Darin) and "It's So Easy" were among many. Although not released until late spring of '58, mostof these cuts had been recorded between December 1957 and February 1958. Sullivan having left the group, Buddy asked Tommy Allsup to play guitar at his sessions. Allsup proved an excellent addition so Holly stopped over-dubbing his own lead. By June of 1958, Allsup was touring with the group.
After a tour in 1958, the group played New York's Brooklyn Paramount. Buddy took the opportunity to meet with his publishers, the Peer-Southern Organization. He met someone else, too: Maria Elena Santiago, a pretty, young Puerto Rican girl who worked for the publishing house. The whirlwind romanceed to their marriage in Lubbock two weeks later.
Maria Elena recalls, "After our second date, he asked me to marry him. It was unbelievable to me that all of a sudden he asked me to get married."
After careful consideration and discussion with her aunt, who warned her ofthe peripatetic lifestyle of a performer, Maria Elena accepted. Buddy's parents came to New York to meet her. They all returned to Lubbock in early August.
The young couple was wed in the Holley home on August 15, 1958, in a simpleceremony performed by Buddy's minister, the pastor of the First Baptist Churchof Lubbock.
After their honeymoon in Acapulco, Buddy and Maria moved to an apartment near New York City's fabled Greenwich Village. Buddy felt that remaining in the city was best for his career.
Although he continued to perform and record with The Crickets, relationships changed. The group no longer traveled together.
Although marriage did not change Buddy fundamentally, it did instill in him a certain seriousness, a greater sense of responsibility. He became displeasedby the group's behavior. And The Crickets admit they were "sort of out of hand." Allison recollects: "We'd get drunk in the morning and stay drunkall day, 'cause in Texas you didn't get to drink - it was dry at the time. Finally, Buddy said, 'Now guys, we're getting a little older; we got to take this more seriously. You guys drink too much. It's obnoxious and I hateit.'"
That wasn't the end...not yet. The group agreed to cut out the drinking, evenmove to New York City. They'd work it out, they decided.
Meanwhile, Holly's relationship with Norman Petty grew strained. Theirassociation was a close one. In fact, Petty often contributed lyrics andbridges to Holly's original material, as well as producing his records.
But Petty was not happy about Buddy's marriage. He feared that it would cause Holly to lose female fans, should they find out about it. So Petty suggested that Maria Elena be known as the group's secretary. As September and October passed, the relationship worsened. However Holly and Petty continued to work together.
They recorded "Reminiscing" and "Come Back Baby" in Clovis with the late King Curtis on tenor sax. "Moondreams" and "True Love Ways" were recorded with the Dick Jacobs Orchestra in New York - the first time The Crickets incorporated straings. But the association between The Crickets and Petty continued to degenerate.
In mid-October, after a mid-western tour, the group decided to terminate their association with Petty, Allison and Maudlin arrived in Lubbock several days before Buddy. After meeting with Petty they decided instead to continue working with him and let Holly go solo. Buddy wanted independence. He told The Crickets they were welcome to rejoin him if they changed their minds.
Holly was not happy with the turn of events...but he was confident that the decision was right. He and Maria Elena returned to New York. No more tours until the turn of the year was his plan. Far from idle, he continued to writeand record. "Raining in My Heart" (Felice and Boudleaux Bryant) and "It Doesn't Matter Anymore" (Paul Anka) emerged during this period of semi-hermitage.
Buddy was full of ideas and plans for the future, including an album of Ray Charles material and a trip to England. He also wanted to help other young artists, among them Waylon Jennings, who accompanied him on his last tour, and Lou Gardino, a young artist who recorded Holly's "Stay Close to Me," one of his last songs.
In late January, Buddy began a General Artists' Corporation tour, "The Biggest Show of Stars of 1959." He asked Jennings, Allsup and drummer Charles Bunch to accompany him. Maria was expecting (she later lost the baby) and she did not join Buddy.
The show included Ritchie Valens, the 17-year old Mexican-American whose song "Donna" was the nation's biggest; J.P. (The Big Bopper) Richardson, a 27-year-old ex-Texas D.J., whose "Chantilly Lace" was a top chart contender;and Dion and the Belmonts. The entire group traveled by bus under conditions far from comfortable.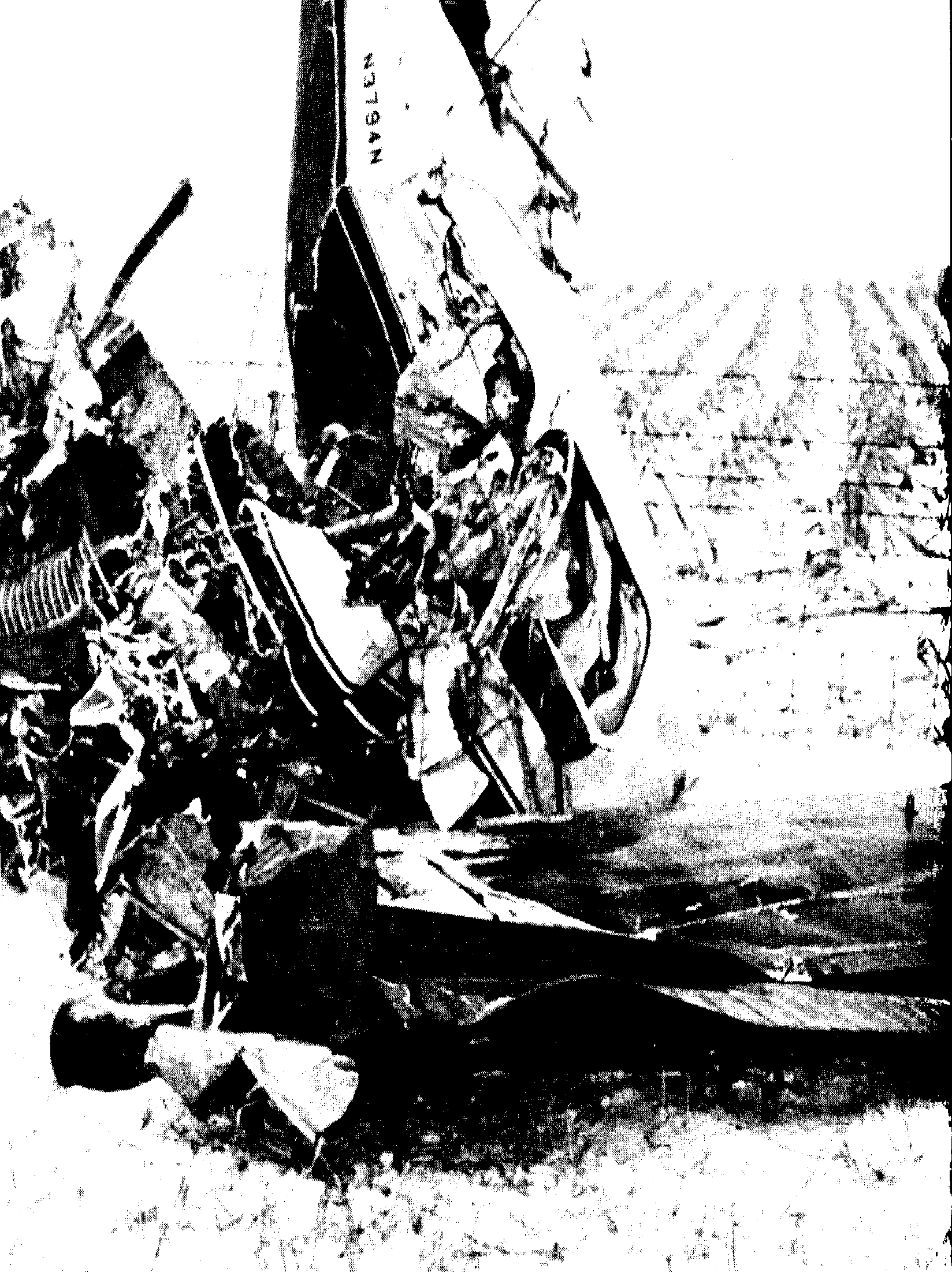 On Monday, February 2, the show played Clear Lake, Iowa. Buddy chartered a small plane for himself, Allsup and Jennings instead of riding the bus to the next stop in Moorehead, Minnesota. They hoped to arrive early enough to have their suits cleaned. lans were changed at the last minute when Richradson and Valens took Jennings' and Allsup's places.
Allsup remembers: "I was the one who chartered the plane, but I flipped a coin with Ritchie Valens - he kept bugging me all night that he'd never flown in a little plane. He won the toss." When the Big Bopper came down with the flu, Jennings gave his seat to him.
Tragic irony touched Holly's death. On the night of the crash, Allison and Mauldin were trying to reach him, hoping they could get back together as a group.